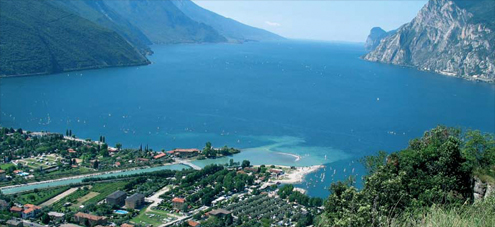 Every year, a total amount of drinkable water equivalent to 1.2 times the Garda Lake, or 1.5 times the Maggiore Lake or 2.7 the Como Lake is used in the bathrooms. About 50% of this water is used to flush toilets.
Clear and drinkable water which in most of the cases is lost, never it will be back again.
Why don't reduce the spillage of clean water and the discharge of waste water and sewage and re-use it for irrigation, fertilizer and other not alimentary uses?
 waterLOOK
The aesthetic and functionality of the loop.
Our sanitaryware are made by quality, long lasting vitreous china. Waterloop technology vortex empties and clean the deep toilet bowl with only 1.8 litres of water.
waterHITECH
The heart of the loop.
Our macerator pump works in combination with Waterloop toilet. It can be fitted up to 20 metres from toilet and pump sewage up to another 15 metres (horizontal) and 3 mt high.
waterNATURAL
The full loop of water.
our range of compact sizes wastewater and sewage treatment plants, all driven via an innovative, 100% biological technology. Output water is crystal clear-no smell and can be re-used for irrigation, flushing toilets or simply discharged on ground or on waters.
waterSPACE
Smart bathroom solutions.
Complete bathroom solutions, both for Marine and Building industry, Residential and Not Residential applications. 
Worldwide Sales